Name: Esker
Age: 23
Race: Human
Height: 5'10"
Weight: 163
Blood type: Unkown
Alignment: Chaotic Neutral
Place of Origin: Alter Castle
Occupation: Zealot
Class: Warlock
Name: Daeden
Age: Unkown, Daeden will only say he is centuries old
Race: Demon
Height: 11'4"
Weight: 684lbs
Blood type: Unkown
Alignment: Evil
Place of Origin: Unkown
Occupation: Demon Slave
Class: Berserker
Appearance:
Esker: Esker is an average sized young man with pale skin and eyes as black as night (this is due to the demonic embrace that all Zealots undergo). He wears Long black robes and a dark hood to hide his face, which has a large scar running horizontally across his nose (from the fight when he enslaved Daeden). At his side he carries a sword, though he rarely draws it. His hair is jet black and is cut short.
Daeden: He is a massive demon with red skin. He stands bipedal and his legs are typical demon fashion. The has horns jutting from his head and claw like finger tips. He is a wingless demon.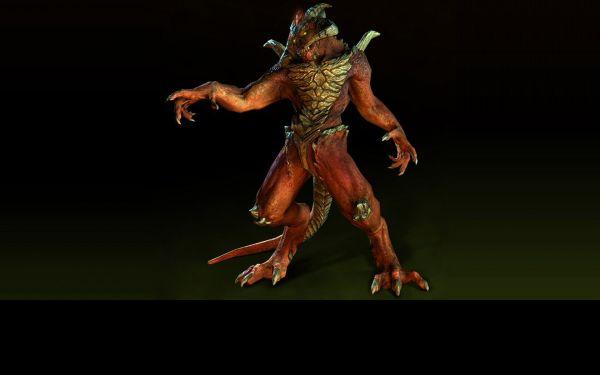 Skills:
Esker: Esker is a Zealot of Alter, which means he wields powerful demonic magic. He is well known among his colleagues for being a master of destruction and affliction magic. He can summon walls of fire and hurl bolts of demonic flame. Esker can also drain the life from his victims, cause excruciating pain to thier bodies and and cause minor wounds to burn as though they were on fire. Esker has an extensive knowledge of diseases and plagues, this comes with the ability to summon them onto his enemies, though such arts are forbidden to be used in the frequent duels between Zealots as many are slow working, but surely cause death.
Esker is also famous for his ability to enter the dreams of people and influence them as he chooses.
As far as martial skill, Esker severely lacks in his ability to fight with a sword. He has only basic knowledge of swordsmanship and is often bested by his fellow Zealots.
Daeden: Before a Zealot is recognized, before they complete training and in order to be fully accepted within the halls of Alter, they must enslave a single demon. Every Zealot and every Acolyte within the castle has a demon partner to whom they are bound. The bonding process is very dangerous and most do not survive the ritual, as the demon often kills their summoner. In Esker's case he bonded with Daeden. Daeden's is known for the sheer brute force he shows in battle. The massive demon shows no mercy as he pummels his opponents to death and consuming their essence, and sometimes their flesh as he tears them limb from limb. Although Daeden has an extensive knowledge of Demonic magic, he prefers to engage his opponents with his strength and stamina.
Personality:
Esker: He is young and foolish. He believes he has no equal and is always trying to prove it. This causes him to be rash and hasty, often rushing into a fight or plan before he has fully thought it out. Esker is quick to judge people and does not trust anyone. He keeps people at a distance and prefers to keep his feelings to himself, for he sees this as a weakness.
Daeden: Daeden is centuries old and cares little for the affairs of mortals. He speaks very little, but when he does he is very critical of lesser races. Many find him insulting and ignorant, doing as he pleases, even if Esker gives him commands to do otherwise. He has no fear of anything within Silica (so he says) and will spit on any who challenge him. He is very sarcastic and loves to laugh at the misfortune of others. Daeden frequently disobeys Esker, but when Esker is in danger, Daeden will give his life defending his master. Daeden says that this is because the bond they share means that if Esker dies, then Daeden dies, but deep down he does care for his master.
Bio: Esker does not remember his childhood, for he was taken from his family when he was very young (about 5 years old) and brought to Alter Castle along with his brother Ethyl. Here he and Ethyl grew up as Adepts. Adepts within the castle are all very young and are forced to do much of the laborious work, such as cleaning and cooking. In their spare time they are encouraged to study the magics of the Mak'shana swamp and its connection to the demon realm. Esker and Ethyl were known for their mischief. They frequently played pranks on other Adepts and were constantly in trouble. The two were inseparable, they did everything together and found strength in one another. The Zealots saw this as a weakness as when one brother was in danger the other would go into a rage and be rash and stupid. This was brought to the attention of the Arbiter, who told the Zealots to deal fix the problem in the trials. When an adept turns 14 they are forced to undergo a series of rituals which will make them an Acolyte. The first ritual is the demonic embrace, in which the adept must sacrifice a large amount of blood to the Arbiter (the leader of the Alter cult) who will them grant them the demon's embrace. To do this they are pitted against one another in brutal combat. There are no rules in this competition, only that the survivors go on to the next set of trials. Unlike most adepts who generally study swordsmanship or some kind of martial art in preparation for the first trial, Esker spent hours on perfecting the spell immolate. When it came time for Esker to begin the first, he was ready to unleash the spell he had learned and torch his opponent and then cleave the head off of their body. What Esker did not expect was to be pitted against his brother, who was unmatched among the Adepts in his skill with a blade. Esker did not want to kill his brother, but he knew that if he did not fight and his brother (who's eyes were glazed with fear and anxiousness) did not fight, that the Arbiter would surely consume them both. SO the contest began. Esker hesitated, as did his brother, and with tears in his eyes he cast his spell. Ethyl was engulfed in flames and he screamed in agony. The Zealots that oversaw the contests laughed as the young boy fell to his knees at his brothers mercy. Once the flames subsided, his brother was charred and weakened to the point where death was inevitable. Esker looked down at his brother, who returned his gaze. Ethyl knew it had to be this way and he whispered with all his strength "make... them... pay..." Esker then drew his sword and thrust it through his brother's chest. Blood rolled down the blade as it pierced the boy's charred flesh and Esker wept.
Esker no knew what he must do with his life. He would destroy the castle of ALter and the Arbiter along with it. The next portion of the trials was to enslave a demon, who would be bound to them until they perished. Esker knew that if he were to one day destroy Alter he would have to have a powerful demon. So he did his research and asked many of the Zealots to help him find a powerful demon. The Zealots told him of Daeden, the demon who had never been conquered. The Zealots knew that Esker would fail, but Esker was determined. He knew he needed Daeden's power to kill the Arbiter. When the ritual came everyone in the castle gathered (with the exception of the Arbiter) to see Esker summon Daeden. Daeden emerged, causing large scale damage to the castle's decorative interior. Daeden laughed as the young man attempted cast various spells at him and made a small gash across Esker's face. Daeden then picked Esker up off the ground and looked deep into the boy's eyes. Esker could feel the fear penetrating his very soul, but he knew if he would ever avenge his brother, he could not give up. The demon laughed and told him he should have summoned a lesser demon. As the demon threw his head back to laugh, Esker drew his blade, which he had previously drenched in his own blood and shouted an incantation. Esker thrust the blade into the demon's wrist, and the demon screamed in pain. Daeden fell this knees and roared in agony. Esker then began the spell to enslave Daeden. Dark demonic chains erupted from the castle floor and wrapped themselves around Daeden's wrists and chest. Daeden had lost and Esker had his demon.
Once Esker became an Acolyte (an adept who has passed the trials, but is not yet a Zealot) he spent many years honing his magical prowess. He made many journeys to the Mak'shana swamp and studied hard. He knew he had to do something to impress the Arbiter in order to gain his attention and become Zealot. So Esker had heard of a clan of barbarians to the north of the castle that had been moving too close to the swamp. He knew that it would only be a matter of time before the Arbiter dispatched a few Zealots to deal with them, so Esker took it upon himself to do the task. Esker tracked the barbarians down and charged them. The battle was difficult, these barbarians were very well seasoned, but they had never faced a warlock of Esker's caliber and eventually submitted to him and his demon slave Daeden, who thoroughly enjoyed the battle. When Esker returned he was bloddied and beaten, but he had victory. The Arbiter was impressed and made Esker a Zealot without forcing him to face another Zealot. He did however have to swear an oath to the Arbiter, and this was his chance to finally see what he was up against. When he reached the Arbiter's chamber, one only Zealots were allowed to enter, he was in awe. He had always thought the Arbiter was a powerful warlock like himself, but infact the Arbiter was a demon. A demon of hunger to be precised and its power was immense. There was no way Esker could slay the demon with just him and Daeden, as powerful as Daeden is. So he would have to gather some kind of force to one day kill the fiend that forced his brother's death. Esker swore his oath to the demon and the demon gave him his first assignment as a Zealot. He was to carry out an assassination of a man by the name of Rydelus. He was given specific instructions to take a path through the mountain and he would eventually reach the hometown of Rydelus. There he was to kill the man and bring his head back to the castle. If the man was absent, then he was to slaughter the town and wait.